Dr. Lynda Bourne, DPM, PMP.

"Nothing is particularly hard if you divide it into small jobs."
Henry Ford.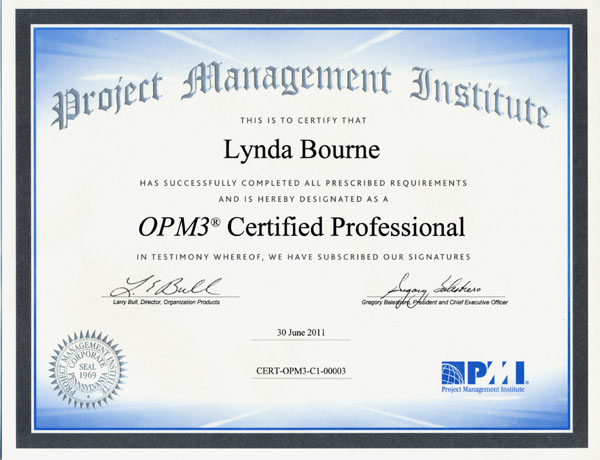 Lynda was the first Australian to qualify as a PMI-Certified OPM3® Assessor and PMI-Certified OPM3 Consultant, this qualification has now been upgraded to OPM3 Certified Professional. She has delivered OPM3 ProductSuite courses around the world and chaired the OPM3 ProductSuite Examination Committee for DNV and PMI from 2006 to 2008 and was then appointed to the PMI OPM3 Certification Committee in 2008.

The Project Management Institute's OPM3 standard emphasises the value of organisational project management in the delivery of organisational strategies. PMI has established a system to conduct OPM3 assessments and to work to identify an improvement program using a robust tool, the OPM3 ProductSuite. Organisations that have conducted these improvement programs note benefits such as:
OPM3 helps organisations identify and deliver the right projects to advance their strategy. With OPM3, you will use organisational inputs to align projects across operations and select only the projects that will deliver business results.

Improved project performance and return on investment with OPM3. OPM3 isolates process improvements while forcing organisations to consider external pressures increasing operational and organisational efficiency. Experience a shift in thinking that will position your organization for immediate gains and long-term success.


OPM3 helps your organization align its strategy with the projects that sustain business success. Through a comprehensive collection of best practices, OPM3 guides your organization on when to stay the course and when to change direction.

OPM3 mitigates operating costs by keeping projects aligned to business strategy. Scalable by both size and maturity, OPM3's diagnostic capabilities can guide any organization to improved performance.


OPM3 Maturity Assessment & Improvement Program. As a formally certified OPM3 Consultant (OPM3-CC), Dr. Lynda Bourne, can provide recommendations and advice on the best ways to approach implementing OPM3 in your organisation.