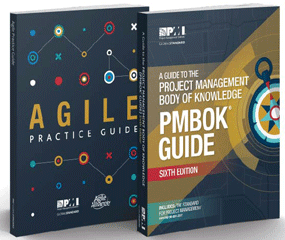 Project Management Body Of Knowledge (PMBOK® Guide)
6th Edition together with the new Agile Practice Guide
created in partnership with Agile Alliance ®
* Stocks held in Melbourne.
* Overnight shipping via Express Post.
Next business day delivery to Melbourne, Sydney, Brisbane, Perth, Hobart, Canberra, Adelaide & Darwin, plus most regional centres in VIC, NSW, QLD, SA & TAS. 2nd day delivery to the rest of Australia: country QLD, WA and NT. All deliveries tracked via Express Post.
Same day dispatch on all orders received before 2:00pm Melbourne time.
PMI's flagship publication reflects the latest good practices in project management. New to the Sixth Edition, each knowledge area contains a section entitled Approaches for Agile, Iterative and Adaptive Environments, describing how these practices integrate in project settings. It also contains more emphasis on strategic and business knowledge—including discussion of project management business documents—and information on the PMI Talent Triangle™ and the essential skills for success in today's market.
The Agile Practice Guide has been developed as a resource to understand, evaluate, and use agile and hybrid agile approaches. This practice guide provides guidance on when, where, and how to apply agile approaches and provides practical tools for practitioners and organizations wanting to increase agility. This practice guide is aligned with other PMI standards, including the PMBOK® Guide - 6th Edition, and was developed as the result of collaboration between the Project Management Institute and the Agile Alliance.
Currently, both publications are shipped by PMI as a single package - the Agile Practice Guide can also be purchased on its own from PMI (we do not hold stocks).
$132.00 AUD (inc. GST and free overnight shipping) - Australian customers only