Work Performance Management (WPM)
WPM is a methodology that has been developed by Mosaic Project Services Pty Ltd to offer a simple, robust solution to the challenges of providing rigorous project controls information on projects that cannot (or are not) using the more traditional controls paradigms of critical path scheduling (CPM) and/or earned value management (EVM). The theory underpinning WPM is available for use under a Creative Commons 3.0 License.
Click through to see more on the Work Performance Management concepts in our PMKI Library..
WPM is not intended as a replacement for either CPM or EVM on large, complex projects.
- See more on Mosaic's Easy EVM Workbook.
- See more on Mosaic's Easy CPM course-in-a-book.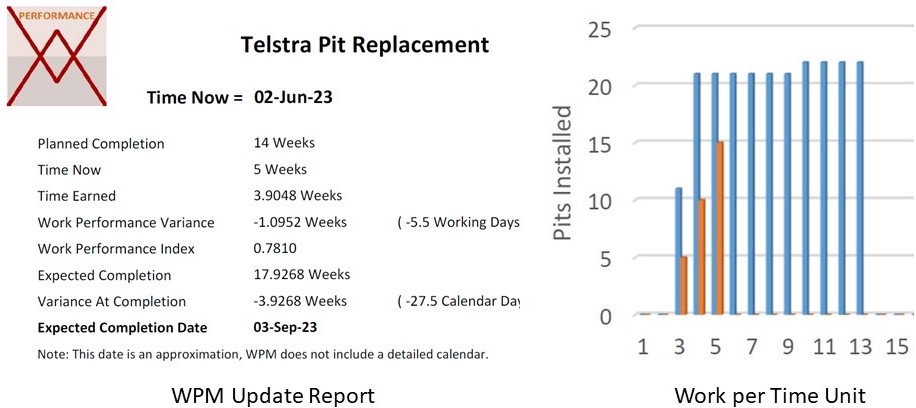 The Easy WPM Workbook, is a practical spreadsheet that performs the calculations needed to implement Work Performance Management (WPM) on projects. WPM is recommended for use on Agile and Distributed projects, as well as straightforward engineering projects up to $20 million and other projects up to $10 million.

Help

Detail instructions on the use of the WPM spreadsheet are included on the 'Instructions' tab in the spreadsheet and we are happy to provide help or advice, or download the instructions for use. (Note: Instructions for use are also included in the download files)

Free Downloads

Download the three WPM sample files.
This folder contains three example projects with a brief description of each and instructions on how to use the spreadsheets. The samples are:
1. A small asset replacement project
2. A 20-week software development project using two scrum teams
3. Construction of a new $15 million railway bridge

For more details on these projects see: WPM Sample Outline.
Note: The project set-up fields are locked in these samples.

Buy the WPM Spreadsheet

Buy the WPM Workbook for $20 (plus GST for Australian purchasers only) Buy Now Link to download emailed on completion of purchase.

Detail instructions on the use of the spreadsheet are included on the 'Instructions' tab and we are happy to provide help or advice.
or download the instructions for use