What is a PMI approved R.E.P. (Registered Education Provider)?

The PMI R.E.P. program started in 1999, Mosaic Project Services Pty Ltd has been a PMI R.E.P. since 2002. Our status as a provider of project management training is reviewed and approved by the Project Management Institute (PMI) on an annual basis, and we remain an approved Registered Education Provider (R.E.P.) for the year through to 30th September.
The PMI R.E.P. Program establishes defined quality criteria and operational guidelines for all participating Education Providers. As a PMI endorsed, Registered Education Provider (R.E.P.), Mosaic has agreed to abide by these PMI established quality assurance criteria. Whilst participating in the R.E.P. Program, Mosaic's course for the PMI-SP exam preparation is pre-approved by PMI for both content and the number of hours of eligible training needed to complete the application process.
All current R.E.P.s are listed in the searchable index on the PMI website at: https://www.pmi.org/learning/training-development/reps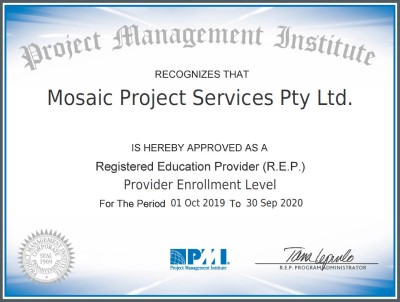 Mosaic's course development and instructor policies are regularly reviewed by PMI to ensure compliance with the PMI R.E.P. Program Quality Compliance Requirements (see more on our training development).
The PMI R.E.P. Program is also designed to facilitate the ongoing professional development of PMI Members, Project Management Professionals (PMPs), and other project management stakeholders by linking stakeholders and training coordinators with qualified providers and products. Examples of Registered Education Providers include PMI Chapters, consultancies such as Mosaic, schools, corporate training centers, government agencies, professional associations, and other providers of education related to project management.
Program descriptions are entered into the R.E.P. searchable database for each of the training courses registered in the Program. All R.E.P.s and their associated offerings are posted on the PMI Web site. Project management stakeholders may search the R.E.P. database and select educational offerings based on such criteria as location, subject area or instructional format. Full details of the PMI R.E.P. scheme (including Mosaic's registered courses) can be found at https://www.pmi.org/. Follow the links to the R.E.P. Program, under the 'Learning' menu.
Mosaic Project Services Pty Ltd is R.E.P. #1705, we have been a PMI R.E.P. since 2002.
Our annual review cycle is from the 30th September each year.
Why choose a PMI approved R.E.P.?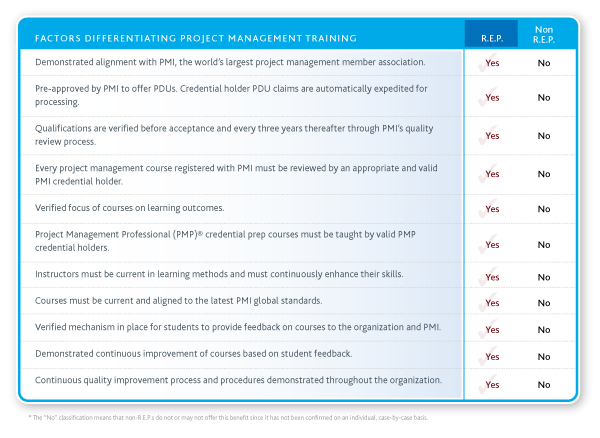 PMI suggest the following benefits accrue from using a R.E.P. for your training:
From our perspective, the key criteria are:
We understand PMI and the PMI examination process.
We've been involved with PMI since 1986 and a PMI R.E.P. since 2002.
Very few organizations have Mosaic's depth of experience in training people to successfully pass their PMI credential exams.
We combine world-class academic credentials with decades of practical project management experience. This capability is mapped out in our CVs.
We still get a thrill out of helping people succeed in their project management careers!