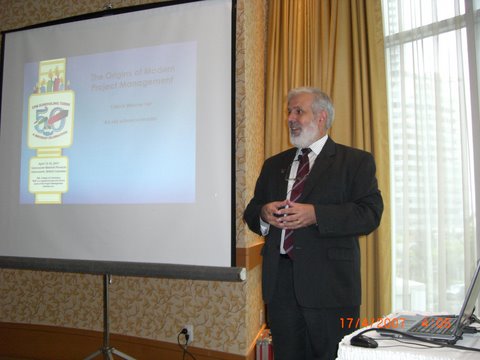 Course Outline (Suggested)
Stakeholders and requirements

Who matters?
What do they expect? (Requirements or Business Case)
How will they know they have received it? (Success criteria)

The Project Charter

Develop the Project Charter

Understand and document the project Scope

Define the project objectives in detail
Define the project scope and deliverables
The role of a WBS (Work Breakdown Structure)
Understand the required level of quality needed to meet stakeholder requirements
Understand the difference between value (benefits realised) and cost

Develop the project schedule

Time and logic – work flows
Resource requirements for a 'realistic and achievable' schedule

Develop the cost plan

Estimating options
Links to procurement
Cost management

Risks and Issues

The Risk Register
Risk treatment and monitoring
Issue Management

Communicating for success

Developing the communication plan (general reporting and targeted for effect)

Communication monitoring
People management (stakeholders, the team, HR, leadership)

Managing for success

Monitoring and updating the project management plans (PMP)
Maintaining project records in the project management information system (PMIS)
Change management

Conclusion
Workshop Details
Duration: 2 or 3 Days
Overview
This Master Class focuses on mastering the project management skills needed to create project success. It focuses on the skills needed by modern PMOs and Project Managers to successfully manage and control projects.
Your workshop leader will demonstrate ways to build on the traditional measures of time, cost and quality, to manage stakeholder expectations, balance risks and opportunities and create value to deliver satisfaction to the project's stakeholders. Developing accurate schedules, budgets and other project control documentation is the craft of project management, this course will enable the delegates to develop the art of project management, through learning how to use the project documentation to develop and maintain robust relationships for project success.
In this interactive master class, delegates will walk through a case study tailored to reinforce the learning from each session, and will be encouraged to contribute from their own experience. The delegates will be guided by an experienced senior project manager, who has also held senior roles in large organisations and researched project success in IT, construction, and business change projects. The proven and effective processes contained in the Project Management Institute's PMBOK Guide® will be also used to uncover the real requirements of a project's stakeholders, define the correct scope and create the deliverables (on time and on budget) that deliver tangible benefits to the organisation.
Delegates will learn:
The vital skills needed to manage a project successfully
How to develop and use Schedules, Gantt charts, Earned Value and other project documentation as a communication tools
The critical importance of proactive stakeholder management
The difference between delivering value and just being 'on schedule'
A stakeholder-centric approach to developing an effective project charter
What a successful project plan should contain
Proven techniques to lead and motivate your team
The correlation between an organisation's risk tolerance and project success
How to develop a culture of successful project management

Modules and Options
Components may include:
Define project success in the 21st Century
Demonstrate new ways to identify a project's key stakeholders
Identify the stakeholder's real needs and requirements
Show you how to exceed stakeholders' expectation and deliver real value
Work within the power structure of the organisation to create a network of support and influence
Discover how project documentation should be used to achieve project success, including:

Project Charter,
GANTT charts, schedules and Milestone Reports,
Earned Value and Earned Schedule reports and charts,
Risk Management Plans, and
Communication Plans

Discuss proven techniques to lead and motivate your team
Understand the correlation between an organisation's risk tolerance and project success
Develop vital skills to manage a project successfully
Establish a culture of successful project management
Walk through a case study and develop practical applications for effective PM
See more on:
Course List
Mentored Email Courses
Workshops
Executive Briefings